Last time, we have talked about the top 5 exclusive neighborhoods with remarkable property values in Toronto. While the city is renowned for its high property values, there are hidden gems nestled within its neighborhoods that offer more affordable options for savvy buyers. As part of West Developments commitment to providing comprehensive insights, we are excited to showcase neighborhoods in Toronto with lower property values, offering potential buyers the opportunity to explore untapped possibilities and make informed decisions. While these neighborhoods may have their unique challenges, they present an excellent opportunity for those seeking affordable housing and potential real estate investments.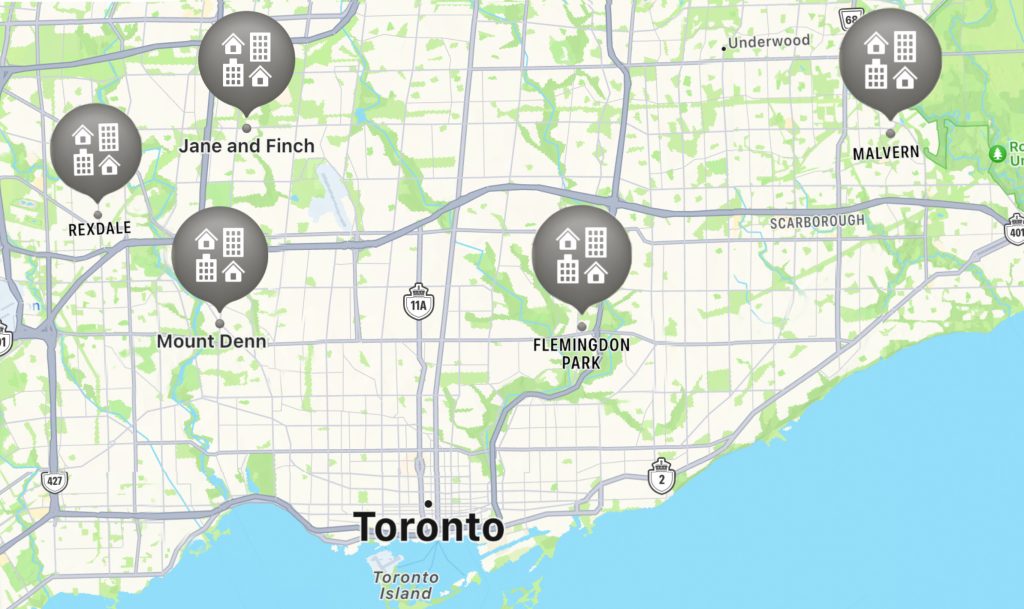 Located in the eastern part of Toronto, Flemingdon Park offers an affordable living option for those seeking a neighborhood with potential. While it may not be as well-known as some other areas in the city, Flemingdon Park has a range of housing options, including low-rise apartment buildings and townhouses. Buyers should be aware that the neighborhood has undergone revitalization efforts, which have contributed to positive changes and improvements in recent years. However, it's crucial to conduct thorough research and consider factors such as ongoing development plans, accessibility to amenities, and the overall livability of the area.
Jane and Finch: A Neighborhood on the Rise
Situated in the northwestern part of Toronto, Jane and Finch is a diverse community that has experienced its share of challenges in the past. However, the neighborhood has undergone significant revitalization efforts and is gradually transforming into an area of opportunity. While there are still aspects to consider, such as limited commercial development and ongoing social initiatives, it presents an affordable option for those willing to explore its potential. It's important to evaluate the specific streets and blocks within Jane and Finch to identify the pockets of growth and investment opportunities.
Malvern: An Affordable Haven in the East
Nestled in the eastern part of Toronto, the neighborhood of Malvern boasts an array of affordable housing options. While it may not have the same prestige as some upscale areas, it is valuable and reassuring for those looking to enter the market or make a sound investment. It's critical to consider that some areas within Malvern may have older infrastructure and limited amenities, but ongoing revitalization efforts are actively transforming the neighborhood into a more vibrant and attractive place to live.
Mount Dennis: An Emerging Opportunity in the West
Situated in the western part of Toronto, Mount Dennis presents an emerging opportunity for buyers looking for affordable housing options. While the neighborhood may have had its challenges in the past, ongoing revitalization efforts and planned developments have sparked renewed interest in the area. Buyers considering Mount Dennis should be mindful of ongoing infrastructure improvements, such as the Eglinton Crosstown LRT, which will enhance connectivity and transportation options. As with any investment, thorough research is crucial to understanding the specific streets and blocks within Mount Dennis that offer the most potential for growth and value appreciation.
Rexdale: Uncover Affordable Potential in the Northwest
Located in the northwestern part of Toronto, Rexdale presents an opportunity for budget-conscious buyers seeking affordable housing. While some parts of Rexdale have historically faced socio-economic challenges, it's important to note that the area has seen positive changes in recent years. Potential buyers should conduct thorough research to understand the specific pockets within Rexdale that offer the best investment potential. As with any neighborhood, it's crucial to consider factors such as proximity to amenities, transportation options, and ongoing development projects that may contribute to future growth and value appreciation.
While considering neighborhoods with lower property values, it's important to approach real estate investments with a strategic mindset. Here are a few suggestions to maximize potential returns:
Conduct Comprehensive Research;
Seek Professional Guidance;
Consider Long-Term Potential;
Assess Rental Demand.
Exploring neighborhoods with lower property values in Toronto presents an exciting opportunity for potential buyers and real estate investors. While these areas may have their challenges, such as aging infrastructure, limited amenities, or ongoing revitalization efforts, they offer an affordable entry point into the Toronto real estate market. With careful research and a strategic approach, buyers can uncover hidden potential and make sound investments in these neighborhoods.
As you navigate the possibilities, it's important to consider factors beyond property values alone. Look for signs of positive change, such as ongoing revitalization efforts, planned infrastructure projects, and proximity to amenities and transportation options. Conduct thorough due diligence and seek guidance from experienced real estate professionals to ensure you make well-informed decisions.
At West Developments, we understand the importance of finding the right investment opportunities tailored to your unique needs and goals. Now is the time to uncover the hidden gems of Toronto's affordable neighborhoods. With the right information and expert advice, you can seize the opportunity to make smart real estate investments that offer long-term returns. Contact our team today to embark on your journey of discovering the untapped potential in these neighborhoods and secure a bright future in Toronto's dynamic real estate market.